Motivational Maps®
What are Motivational Maps®?
Motivational Maps® are an ISO accredited self-perception inventory that:
Identifies what a person is motivated by; what a person wants and needs at work to drive high performance
Measures to what extent a person's Motivators are currently being met
Provides practical, targeted reward strategies which, when applied, help to drive up motivation levels
Enables a person to set meaningful targets for their future motivation levels, have a realistic action plan and so maximise their motivation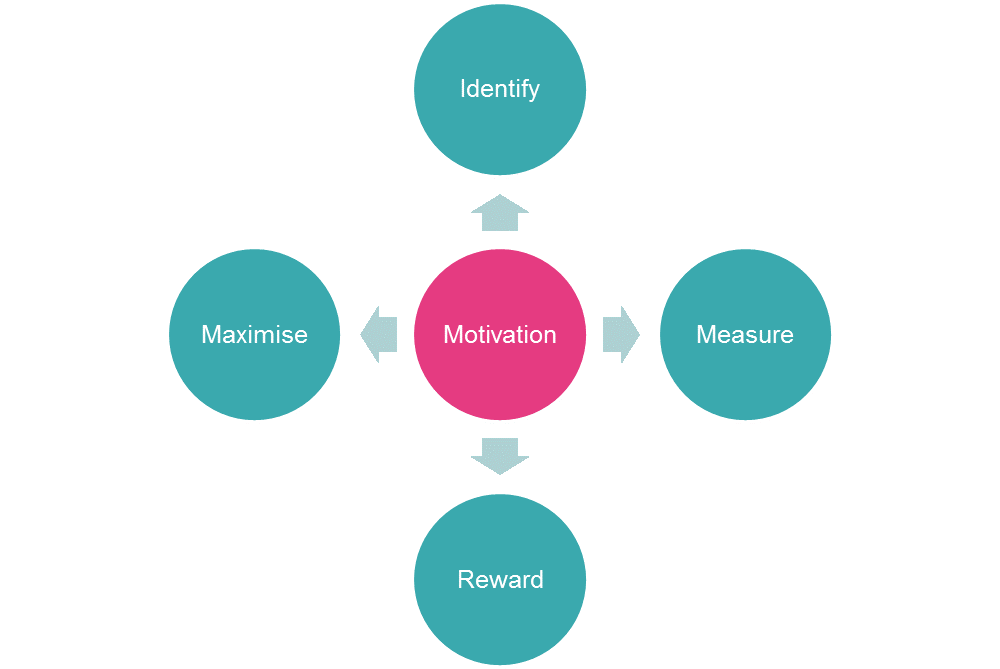 Motivational Maps® are based on compelling and original research into motivation and performance – intellectual property which gives organisations using it real competitive advantage.
---
How to use Motivational Maps®
A questionnaire is completed online (takes 10 minutes) and the Motivational Map® is available immediately.
Maps need to be administered by an accredited practitioner. Either our team can deliver Maps to your people on your behalf as part of increasing Personal Effectiveness, Leadership Development or building High Performance Teams or you can become an Accredited Practitioner.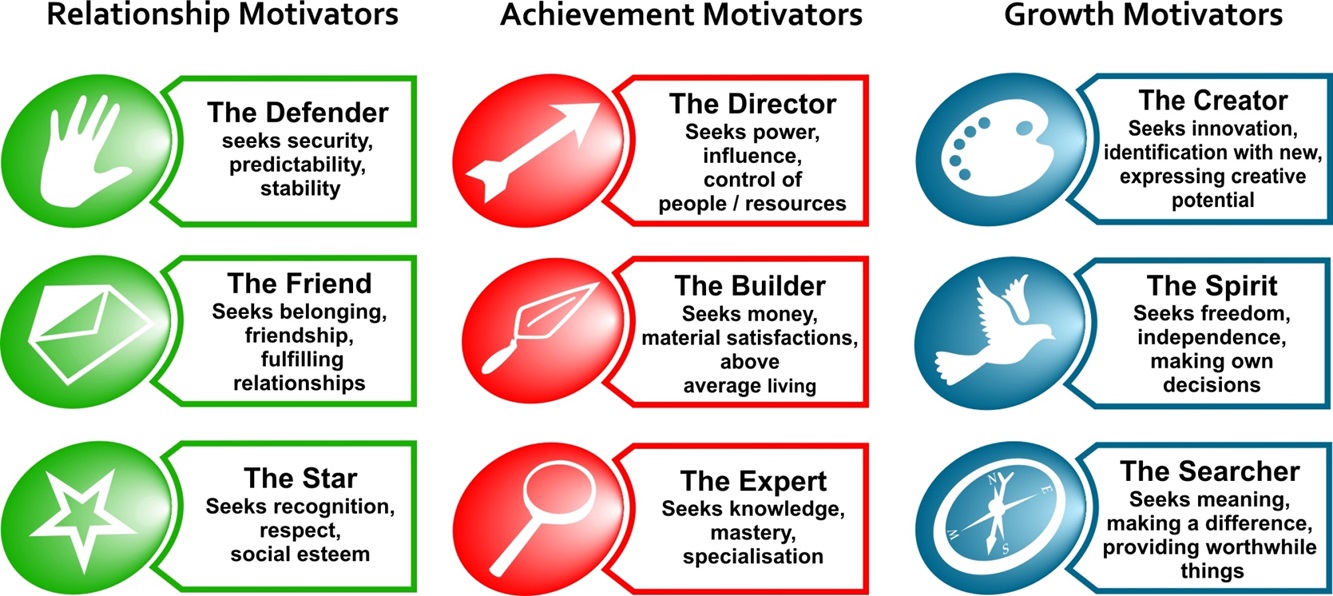 ---
When to use Motivational Maps®
The Motivational Map® when used with individuals have a number of applications and benefits as follows:
Applications:

Benefits and Outcomes:

Coaching
Performance appraisals and 121s
Leadership development
Recruitment and retention of staff
Talent management
Career management

Enhanced self-awareness leading to increased motivation and performance
Improved engagement and productivity
Improved leadership
Better recruitment selections
Targeted reward and recognition approaches for people
Better career choices
The data from individual Maps® is then brought together to produce Team Maps and Organisational Maps to help build on the strengths of everyone working together. This can be used in a number of ways and produces real value to support the People Strategy as follows:
Applications:

Benefits and Outcomes:

Change management programmes
Engagement and reward strategies
Leadership development
Managing project teams
Performance Management/appraisal
Talent management
Internal communications

Improved employee satisfaction through having a targeted approach
Better team work and greater productivity
Superior leadership skills
Better recruitment choices
Focused and more effective reward and recognition strategies
---
How are Motivational Maps® different to other tools?
Complementary – where a company has already invested in a psychometric such as MBTI or Insights Discovery, Motivational Maps® help deepen self-awareness and the tool is seen as a complementary rather than a 'same as' tool
Better – whereas many tools just provide an individual with information, Motivational Maps® collates data across the team, department and whole companies. This enables organisations to get intelligence on what drives its culture, employee engagement, values and more, so they can have more informed and relevant people strategies.
Memorable – the accessible language of Maps makes it memorable long after the initial feedback is given
Measurable – Motivational Maps® is the only tool on the market which measures motivation
Bottom up – Motivational Maps® helps put the employee in the driving seat, by asking "What can I do to increase my own motivation?"
Scalable – online learning helps individuals gain a deeper understand of their Map without the need for face to face interventions. This enables organisations to roll out Maps® on a big scale cost effectively.
Affordable – Maps are priced to make them scalable and so is very competitive
Easy to use – within ten minutes, people understand the language of Motivational Maps® and start to use it. 92% of people have confirmed Motivational Maps® are easy to use
---
Who is using Motivational Maps®?
The John Lewis Partnership, Siemens, Oracle, Novartis, Motorpoint and Ordnance Survey are just a few of the household names who have benefitted from using Individual and Team Maps®. 95% of users said their Motivational Map® accurately described their Motivators and 97% found the information useful.