Human experience is about creating the moments that matter.
The focus on employee engagement hasn't worked.
It's time to move away from top-down approaches and start listening to what the people who work in organisations need and want from work. We know that when you get this right, you have happier, more productive, more innovative, healthier, more connected teams. Get it wrong, and you'll be left behind.
When you focus on the needs and wants of individuals, you start to discover what matters in their human experience of work.
What do we mean by human experience?
Put simply, it is all the experiences a person has with an organisation from pre-hire to retire. It is built on moments that matter. When organisations and the people they work with, co-create positive experiences, a deeper sense of meaning, greater connection, higher performance and stronger business outcomes result.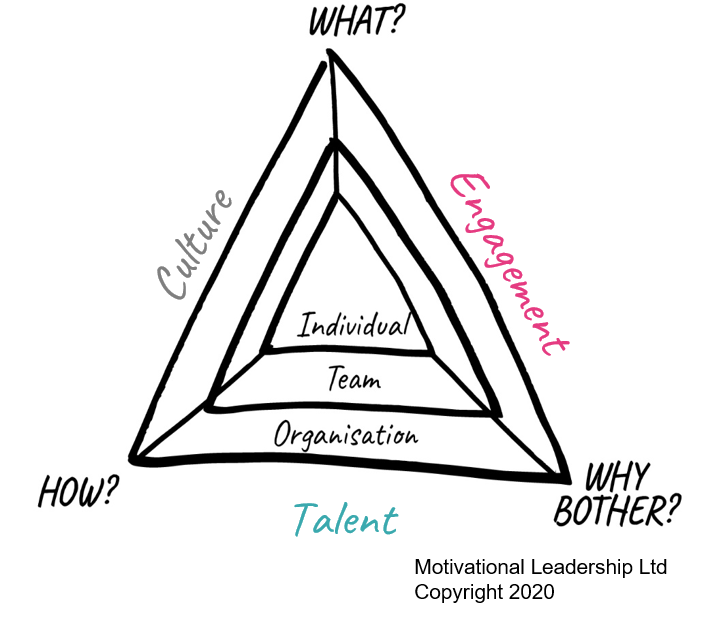 Our Success Triangle brings together the key components of the human experience of work:
how people feel about work - this is their 'why bother?'

how people ?contribute at work through using their skills and behaviours - this is their 'how?'

how people deliver impact at work - this is their 'what?'
You can find out more about this here.
To find out more, email us at info@motivationalleadership.co.uk




In working together, we can share our expertise to help you:
Understand what drives teams and how you can better align their efforts in a sustainable way;

Be able to focus on aligning individual purpose to team's purpose and ultimately organisational purpose;

Enable employees to gain more meaning from work

Nurture a sense of sustainable energy to allow employees to continue performing at a high level;

Be able to focus on the dynamics that emerge by having conflicting motivators, and specifically how to turn this into a positive.
Results organisations typically gain from using our approach include:
Reduced staff turnover

Reduced spend on recruitment

Increased staff retention

A happier, more engaged and productive workforce

Reduced absenteeism

Increased levels of discretionary effort

Increased employer and customer reputation

A more energised team all pulling in the same direction.
To find out more, contact us.